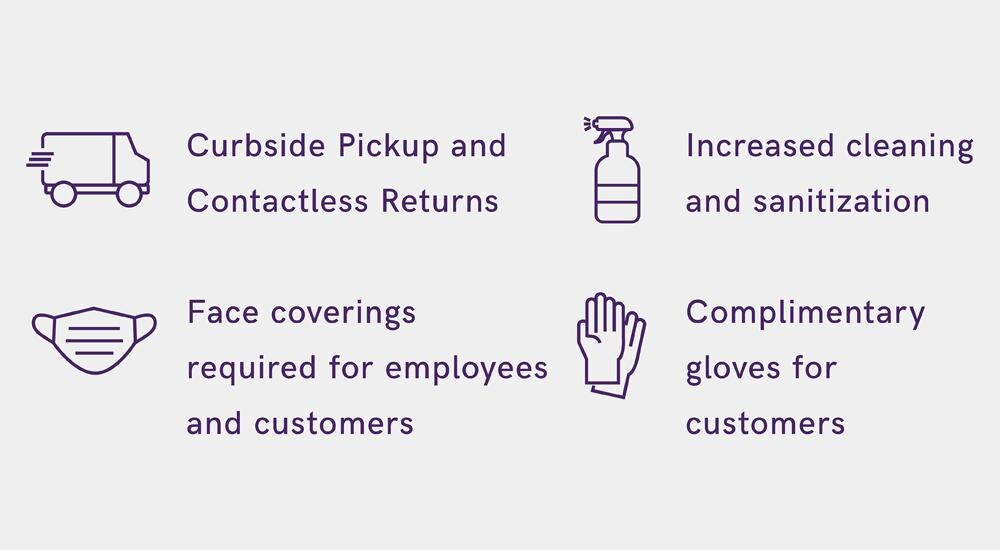 COVID-19 Updates & FAQs
Last Updated November 20, 1:40pm
Keeping our customers and employees healthy is our number one priority. In accordance with the latest mandate, our in-store capacity is limited to 25%, and we are continuing to enforce additional health and safety precautions in-store:
All employees and customers are required to wear a face covering while in the store
We are sanitizing and cleaning surfaces regularly and
We have provided guidelines throughout the store to help you keep a safe distance from others
Complimentary gloves are available at the doors for browsing.
If you don't feel comfortable or safe visiting us in-store, we are offering free domestic shipping on all orders of $50+ or more online to help make online shopping more accessible for you. If you aren't finding what you're looking for online, you can always call us during business hours (12pm–4pm) and one of our staff members will be happy to assist you over the phone.
Curbside pickup and contactless returns are available for all purchases.
Extended hours begin on Monday, August 31
Effective August 31st, the U District store will be open for the following hours:
Monday–Saturday: 12pm–4pm
Sunday: Closed
Curbside pickup hours will remain 9am–5pm, every day. Masks and face coverings are required for entry.
We offer curbside pickup and contactless returns every day from 9–5 at our U District location, near our parking lot.
Just enter the alley behind our store from 43rd Ave and drive up to the loading dock or park in the lot on 43rd and 15th and walk up to the dock. We'll be waiting for you! Practice social distancing; only one customer at a time, please.
Orders can take between 24 and 72 hours to process depending on order volume. Once your order is ready to be shipped out or picked up, you will receive a second email notification.
If you're curious about the status of your order, you can check it here: ubookstore.com/orders-payments
Due to the impact of COVID-19 and increased national shipping volume, your order may take longer than usual to arrive. University Book Store encourages customers to use our curbside pickup service, available every day from 9–5 at our U District store, whenever possible.
Pending Fulfillment" just means it hasn't shipped, yet, which doesn't mean we haven't started working on your order; we have as many staff as possible working to process orders.
Once your order has been shipped, you will receive an email notification and your order status will be changed from Pending to Shipped.
Because of the global impacts of COVID-19, shipments coming out of the U.S. may be delayed and may experience additional delays once received by your local mail courier. Please visit about.usps.com/newsroom/service-alerts/international/ and check with your local courier before placing your order.
It depends on your bank or credit card company, but usually 5–6 business days after we've received your return.
Once we have received your return, it will be stationed in a 72-hour quarantine area before our staff begins processing your return. Because we are taking this additional precaution to ensure our employees' health, please note that your return may take a bit longer than you're used to.
We are not currently offering pickup at Willow Hall. Customers are encouraged to either choose curbside pickup at our U District store or order through ubookstore.com.
All workers and employees on-site are required to wear a mask at all times. Employees in need of a mask will be provided one by University Book Store.
We have increased the frequency and rigor of the cleaning of our stores and offices, including but not limited to the regular sanitization of all common areas, doors and door knobs, bannisters, countertops, tabletops, in-store point-of-sale stations, and credit card pin pads.
Our leadership team is actively monitoring the situation as it evolves, as per the recommendations of the World Health Organization (WHO) and the Center for Disease Control and Prevention (CDC), and will take our lead from the University of Washington; updated information is posted at uw.edu/coronavirus.
To ensure public health, all textbook purchases for UW Seattle, Bothell, and Tacoma are online only; our Course Materials department is closed to the public.
Get rewarded for shopping early! Use promo code FQTR2020 between September 1–15 and take 10% off your textbooks purchase* and $5 flat-rate, domestic, ground shipping. This discount decreases to 5% between September 16–22.
Customers outside of Washington state are encouraged to order their textbooks as soon as possible to ensure timely delivery, or choose digital options when available. International orders will be shipped out via Fedex to ensure trackability; please review Fedex's website and check with your local mail courier before ordering.
*Discount excludes high school course materials, eBooks, access codes, shipping, technology products, and only applies to stock on-hand for UW Seattle, Tacoma, Bothell, and Cascadia College.
Customers have 14 days from the first day of Fall quarter to return physical textbooks and 7 days to return digital textbooks. If you need to return or exchange a textbook, please place a new order for the updated items before your return has been processed in order to ensure your textbooks arrive in time for classes. Please note that return shipping is at-cost to customer; when shipping books, we encourage customers to use media mail for best rates.
For fall quarter refund deadlines and additional instructions on textbook refunds and exchanges, please visit ubookstore.com/returns-exchanges.
Return service is available at UW Bothell on The Plaza on October 2 and 7, between 11am–3pm and at University Book Store Tacoma on October 5 and 9, between 11m–3pm. Please note that these will be for return service only. Contactless returns are available every day in the U District from 9am–5pm.
NE 43rd Street is now westbound only beginning Monday, August 17: in order to enter our parking lot customers will need to drive down 15th Ave NE and make a right turn onto 43rd. To exit our parking lot, customers will need to make a right turn toward University Way NE ("The Ave").
Construction will be weekdays from 7am–5pm with occasional weekend work. This comes as part of the NE 43rd St Improvements Project to introduce wider sidewalks, new bike lanes, channelization changes, and more. The entire project is expected to be completed by Spring 2021.
For more information and updates, you can visit www.seattle.gov/transportation/43rdimprovements